THE ULTIMATE UPGRADE FOR YOUR FEET.

Boost Your Comfort and Performance with ZL™ HEXCORE
100% Money Back Guarantee!
THE ULTIMATE UPGRADE FOR YOUR FEET.
Boost Your Comfort and Performance with ZL™ HEXCORE
10% Off 2 pairs, 15% Off 3 or more
Discount automatically applies.
NEXT level comfort
FINALLY, AN AFFORDABLE AND EFFECTIVE CUSTOM INSOLE.
The problem: custom insoles are expensive and store bought insoles aren't made for your specific foot shape.
Z-Liners give you the best of both worlds. A fully breathable, fully custom insole that provides you with optimal cushioning, arch support, shock absorption and hygiene control. Z-Liners rival expensive custom insoles without having to break the bank. Once you step onto an insole that is made for your exact foot shape, you won't want to go back.

Work, sports, hobbies, you name it, Z-Liners will help. We guarantee it or your money back.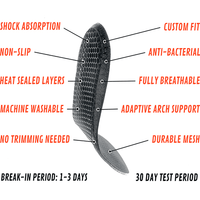 Say goodbye to foam insoles
Hexcore

Dynamic Shock absorption
Discomfort stems from a lack of support and improper cushioning. Unlike foam insoles that flatten out with your weight, Z-Liner's material design allows for an increase in shock absorption and a comfortable, supportive base you've yet to experience before. 
The hexagonal pods act as an additional suspension layer for your feet by compressing and returning to form, displacing the impact of every step you take and giving you a boost of energy return to combat fatigue.
BUILT-IN SUPPORT
TAILORED FIT FOR EVERY ARCH SHAPE
Z-Liners come flat out of the package ready to form. They also feature a denser material in the arch region that forms to and supports your specific arch shape. Flat feet included.
No molds, ovens or doctor visits required. All it takes is a few days of wear for your feet to set in. It's that easy.
To combat odors, Z-Liners are anti-bacterial, machine washable and feature a porous mesh fabric and honeycomb lattice that pumps air through the insole, wicking away moisture and keeping your feet dryer.
Features
Custom FIT
MAX ENERGY RETURN
Adhesive-Free
Advanced Breathability
machine wash
Low Profile
Anti-Bacterial
Anti-microbial
full/half sizes
Price
$29.99
Daniel L.
Houston Fire Department
"As a Houston Firefighter, I'm always looking for anything that can minimize stress on my body during our shifts. Especially when it comes to heat and impact. After trying them out for a few tours, I can easily say that they do ventilate better than my current insoles. 
The most surprising thing is how cushioned they are, considering how thin they appeared. Especially on the forefoot. Good job guys, looking forward to seeing how long they last."
We are beyond grateful to be protected and surrounded by our First Responders, Healthcare Workers and Military Personnel.
Please send us an email to info@z-liner.com to take advantage of our discount.
Get Yours Today